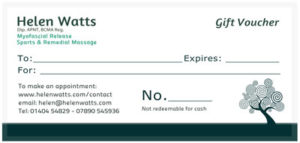 To arrange and get peace of mind you are giving a fantastic gift why not Contact me now.
You can either make an appointment for them in advance or allow them to book themselves at their leisure (valid for 6 months).
Payment options:
1. Use online banking to transfer straight to my account.
2. Pay by cheque and I can post a gift voucher to you or your recipient. (I can usually do this on the same working day, the voucher then becomes active once your cheque has cleared).
3. Pay by cash and collect in person.
Left it until the last minute?
Don't worry, you can use payment option 1 or 2 or even send the cash or cheque in a sealed envelope with them.  The latter is actually one of the most popular options.
Would you like this gift for yourself?
If you want to take control of your own gifts or need to drop subtle hints to your loved ones – why not copy and paste this link in a message to them or call by for a leaflet so you can leave it in an appropriate place for them to see.  My leaflets are available 24/7 in a stand outside Ebdons Court Natural Health, Church St, Sidmouth. (Behind Willow Tree Tea Rooms) and available for download soon.
The small print: 
Gift vouchers are valid for 6 months, however, I'm a nice person so just talk to me if you realise you have an expired one.
Gift vouchers cannot be returned/refunded. You can transfer them for someone else to have a treatment instead.